Meet Maggie-my adventure van! As of a month ago I call this baby home. A couple years ago I became obsessed with tiny homes and minimalist living, mostly on Pinterest of course. I had no idea how it would play a role in my life, or that it would ever materialize into a reality for me.

Over the summer I took three trips to Colorado in two months, I was hooked! On my third trip I interviewed with a great coffee shop and decided that if I got the job I would make the leap into van life.

Up to this point I knew I wanted a van to build out and live in, had begun saving and even scouring Craigslist to see what was out there. I however had no idea what I would do once I actually had the van. Until NOW. Here it was, my plan, laid in front of me all I had to do was go for it.

From the day I got the job to the day of the move things fell into place with such ease, all I had to do was stay on top of my timeline. I had already been pretty nomadic for the last three years, traveling to teach Yoga, Acro Yoga, Slacklining, and of course for FUN. I kept a home base in Texas and worked part time as a barista, something I love to do.

I made a Facebook announcement about the move and my search for a van. Magically, one of my climbing buddies chimed in saying, "if you want to put in a little elbow grease, I have my old camper sitting around collecting dust". What?!? Perfect! It was exactly what I was looking for, a blank canvas.

In the two weeks following my acquisition of the van, I did everything I could to make it liveable before leaving. That is no time at all but I was determined and had AMAZING friends that helped me a ton during the process. By the time I left Texas I had her insulated, built the floor, closet, and bed. Leaving the kitchen to be finished in Colorado.

Fast forward one month and I've been in the mountains at least once a week, climbing, slacklining, running, biking, and adventuring all over this beautiful state. We don't plan on stopping anytime soon!
Powered by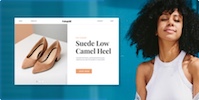 Create your own unique website with customizable templates.