Here is a streamlined list of current offerings available to studios and small groups. If interested in hosting one or multiple workshops, contact Dani via the contact form or by emailing her at whitehawkyoga@gmail.com for more information.
---




You call it




An experimental offering, are you up for it? Here is how it works. You will tell me what you want to learn, I'll do the research, create the class, and bring you my very best! Not sure if I can teach it? Just shoot me an email and ask! Bonus points for creative suggestions.
---








Handstand








This workshop is a unique blend of Forrest Yoga and strength focused handstand drills. It is designed to give you the tools you need to find balance, strength, and killer alignment in your handstand practice. Attendees should be able to kick into and hold a handstand for 15-30 seconds at the wall or with a spotter.
---
Gravity Surfing

Designed to take your arm balanced transitions to a new level, this workshop is practically a buffet of the yogic variety. Learn approachable techniques no matter your level. Show up ready to conquer fear, build strength, and have a good time exploring your limits.
---
Connect to your core

First, what IS your "core"? I'll tell you, it's so much more than those six little muscles we all know so well. In this workshop, traditional Forrest Yoga sequencing is used to illuminate the areas of the core we often neglect. In addition to all of that, we of course, won't neglect those special six. A sure fire way to enhance your core's ability to support your skeletal structure.

---
Intro to forrest yoga

Well, this one pretty much describes itself. A great place to start a yoga practice or explore a different style. So, WHY Forrest? Because of the unique blend of traditional eastern yogic practices, traditional western ceremony, and a focus on healing modern physical issues, this practice offers a well rounded experience of yoga.

---
twists
Some of my favorite poses are twists for the physical and emotional benefits they offer. Twists offer an opportunity to find a deep release of the unnecessary tension/emotion/struggle we often carry around with us on the daily. If you aren't able to connect with that level of release, you will certainly FIND those areas, giving you a deeper understanding of how to work with them.

---
backbends
Spend a good amount of time in this workshop opening shoulders, hips, and upper back to support a healthier and deeper backbend practice. With many prop supported/assisted options to make wheel and even deeper backbends approachable for all levels, as well as breakdowns on many advanced backbending postures and transitions.

Powered by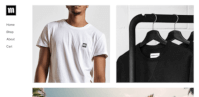 Create your own unique website with customizable templates.